'Carnival proves a rocking success' Page 14, Express & Star, Tuesday, August 20, 2013
Mitchel Emms proves a success to achieveing a photograph in the paper for our event, and money well spent on his appearance. Cressida Carthy Zumba class also pictured, did not get a mention in the paper, but did a fabulous job of warming our team contestants up, ready for the It's A Knockout Tournament.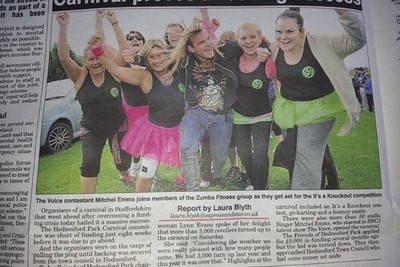 Page 24, The Chronical, Thursday, August 15, 2013 'Mitchel on song as carnival is ready to reach high notes'
The fact we invested in Mitchel Emms (Local young celebrity from BBC's The Voice, Series 2) to open our Carnival Event, made an impact on the fact we had a mention in our local paper. We made page 24 with details of the actual event and (Below right) The Dogs Trust mentioned us in their advert on page 21 of the same issue, because we were fortunate to have them support the event with free microchipping. We were a little concerned because they mentioned the Chairperson's address in the advert, rather than the park, but a poster on our Chairpersons porch diverted any Dogs Trust customers to the correct address on the day.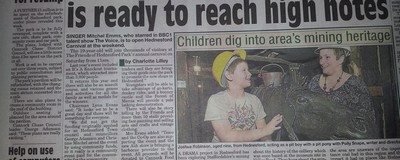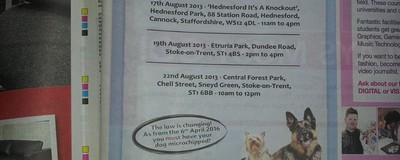 Thursday 8th August 2013 Chronical: 'New Store is just the ticket for shoppers'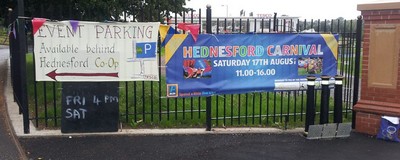 We did not issue this press release, but we were pleased to get a mention for our event. Aldi's Public Relations company contacted us in June, asking to support our Hednesford Carnival, as a means to promote the opening of the new Aldi store (On 1st August). We asked for the opportunity to discuss the proposed parking restrictions and welcomed their support for the event. Following a meeting with Aldi area manager Rachel McGovern, Dave Wisehall (Hednesford Traders and The Heart of Hednesford Renovation Project) and Lynn C.E. Evans (our Chairperson) we were delighted to see how approachable and supportive Aldi were.
Aldi provided 4 beautiful banners for the event, are representing the community with a team for the Its A Knockout Tournament and are providing a catering company to sell BBQ food at the event, ALL proceeds will be donated to Cannock Food Bank.
We are thrilled to have Aldi as part of our community and appreciate their support and approachability to communicate over issues that affect the local community.
If you like this, please share: